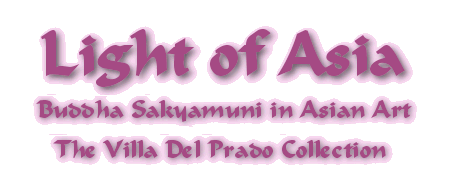 This extensive private collection of Buddha statues was collected over a span of several decades.
Many of the statues are centuries old and originate from many different countries across Asia,
fashioned from various materials such as bronze, jade, stone, ceramic, wood, ivory, etc.
The Villa Del Prado Collection is particularly known for its large
ivory collection.

See the
brief introduction
for more info on Buddha Sakyamuni in Asian Art.
Also see our
site index
to locate other pages of interest on this website.
Click on any image once loaded and it will bring up the fullsize photo.
The Ivory Collection is
available for purchase
by serious investors.
Only mid 6-figure offers considered. Individual pieces not for sale.
[
more info
]

| | | |
| --- | --- | --- |
| Nepalese Bronze | Tibetan Bronze | Chinese Bronze |
| | | |
| --- | --- | --- |
| Japanese Bronze | Japanese Bronze | Japanese Bronze |
| | | |
| --- | --- | --- |
| Tibetan Bronze | Chinese Bronze | Tibetan Bronze |
| | | |
| --- | --- | --- |
| Chinese Bronze | Chinese Bronze | Chinese Bronze |
| | | | | |
| --- | --- | --- | --- | --- |
| Thai Bronze | Chinese Bronze | | Chinese Bronze | Thai Silver/Bronze |
| | | |
| --- | --- | --- |
| Chinese Bronze | Chinese Bronze | Chinese Bronze |
| | | |
| --- | --- | --- |
| Japanese Bronze #1 | Chinese Brass | Japanese Bronze #2 |
| | |
| --- | --- |
| Japanese Sterling | Japanese Sterling |
| | |
| --- | --- |
| | Chinese Bronze |

| | | |
| --- | --- | --- |
| Japanese Clay | Chinese Porcelain | Chinese Ceramic |

| | | |
| --- | --- | --- |
| Japanese Satsuma | Japanese Satsuma | Japanese Satsuma |
| | | |
| --- | --- | --- |
| Japanese Satsuma | Japanese Satsuma | Japanese Satsuma |
| | | |
| --- | --- | --- |
| Japanese Satsuma | Japanese Satsuma | Japanese Satsuma |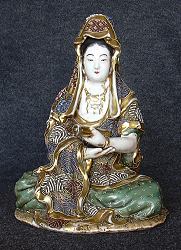 Japanese Satsuma

| | | | |
| --- | --- | --- | --- |
| Japanese Boxwood | Jap. Woodcarving | Japanese Woodcarving | Japanese Boxwood |
| | | | |
| --- | --- | --- | --- |
| Indian Gilt Wood | Japanese Woodcarving | Jap. Woodcarving | Japanese Woodcarving |
| | | |
| --- | --- | --- |
| Chinese Boxwood | Laos Wood | Chinese Boxwood |
| | | |
| --- | --- | --- |
| Vietnamese Huongwood | Balinese Woodcarving | Chinese Wood |
| | | |
| --- | --- | --- |
| Chinese Jade | Chinese White Jade | Chinese Jade |
| | | |
| --- | --- | --- |
| Chinese Shoushan Stone | Chinese Orange Jade | Chinese Shoushan Stone |
| | | |
| --- | --- | --- |
| Rose Quartz | Shoushan Stone | Chinese Jade |
| | | |
| --- | --- | --- |
| Thai Khmer Stone | Russian Crystal | Chinese Stone |




Japanese Ivory




Japanese Ivory
(

Daibutsu

of Kamakura)




Japanese Ivory



| | | |
| --- | --- | --- |
| Japanese Ivory | Japanese Ivory | Japanese Ivory |
| | | |
| --- | --- | --- |
| Japanese Ivory | Japanese Ivory | Japanese Ivory |
| | | |
| --- | --- | --- |
| Japanese Ivory Okimono | Jap. Ivory Okimono | Japanese Ivory Okimono |
| | | |
| --- | --- | --- |
| Japanese Ivory Okimono | Japanese Ivory Okimono | Japanese Ivory Okimono |
| | | |
| --- | --- | --- |
| Japanese Ivory | Japanese Ivory | Japanese Ivory |
| | | |
| --- | --- | --- |
| Chinese Ivory | Chinese Ivory | Japanese Ivory |
| | | |
| --- | --- | --- |
| Japanese Ivory Miniature | Japanese Ivory | Japanese Ivory |
| | | |
| --- | --- | --- |
| Japanese Ivory Okimono | Jap. Ivory Okimono | Jap. Ivory Okimono |
| | | |
| --- | --- | --- |
| Japanese Ivory | Japanese Ivory | Japanese Ivory |
| | | |
| --- | --- | --- |
| Thai Ivory | Burmese Ivory | Thai Ivory |
| | | | |
| --- | --- | --- | --- |
| Indian Ivory | Indian Ivory | Indian Ivory | Indian Ivory |
Chinese Ivory Reclining Buddha
| | | | |
| --- | --- | --- | --- |
| Indian Ivory | Cambodian Ivory | Burmese Ivory | Ceylonese Ivory |
| | | |
| --- | --- | --- |
| Chinese Ivory | Japanese Ivory Shrine | Chinese Ivory - Ming Style |
| | | |
| --- | --- | --- |
| Japanese Ivory Netsuke | Ivory Buddha head | Japanese Ivory Netsuke |
| | | |
| --- | --- | --- |
| Japanese Ivory Netsuke | Chinese Ivory | Japanese Ivory Netsuke |
| | |
| --- | --- |
| Ivory Salt and Pepper Shakers | Ivory Buddha Earrings |

| | | |
| --- | --- | --- |
| Ivory Saraswati | Ivory Ganesh | Ivory Krishna |

| | | | |
| --- | --- | --- | --- |
| Ivory Kwanyin | Ivory Kwanyin | Ivory Kwanyin | |
| | | |
| --- | --- | --- |
| Ivory Kwanyin | Ivory Kwanyin | Ivory Kwanyin |
| | | |
| --- | --- | --- |
| Boxwood Kwanyin | Ivory & Bone Kwanyin | Jade Kwanyin |
| | | |
| --- | --- | --- |
| Bronze Kwanyin | Kwanyin Snuff Bottle | Wood Kwanyin |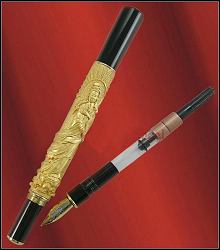 Jinhao Kwan-yin Fountain Pen

| | | |
| --- | --- | --- |
| Green Glass | Buddha mask | Chinese Rhino Horn |
| | |
| --- | --- |
| Tibetan Thangka | Tibetan Thangka |
Original Japanese Woodblock Print - Buddha and his Followers
| | | |
| --- | --- | --- |
| Tibetan Buddhist Shrine | Chinese Cabinet | Japanese Edo Zushi |
| | |
| --- | --- |
| Miniature Buddha and Amulet Collection | Miniature Buddha Medallion Collection |
| | | |
| --- | --- | --- |
| Antique Japanese Inro | 2002 Nepal 1/2 oz Gold Coin | Silver Ring |
INDEX OF INFORMATIONAL PAGES:
return to top of the this page
Click on any photo to see it closer up Thanks for visiting our Buddha collection! Descriptions of Mudras or Buddhist hand gestures For inquiries about this website please contact us by Email Read a movie screenplay involving Aikido and eastern philosophy. Learn a simple technique based in Aikido to calm the mind and harness Universal energy. Those interested in Oriental Carpets may enjoy our extensive collection of Persian Rugs